Are Brand Stores replacing Search Results Pages on Amazon?
Wednesday, August 7th began like any other day at the Channel Bakers office in Anaheim.
Our account executives rolled in and began swiftly answering client e-mails before hopping into Amazon. One hand clenched around their morning cups of coffee, they typed in the exact brand names of our partners into the Amazon search bar… And what do they find?
No Sponsored Brands. No list of products. Just a brand store page.
Here is a list of the brands we noticed with this unique search result:
As our Samsung brand store generated over 729,000 views during the 2018 holiday season, we cheerfully attest to the effectiveness of brand store pages. Brands are able to showcase their products on one page and increase the likelihood of cross-merchandising.
However, as of right now, shoppers must click on the brand name inside of a product detail page in order to organically reach a brand store page.
So will brand stores replace search results pages to create a more brand-accessible experience?
Let's investigate.
A Focus on Apparel
As Amazon became the largest e-commerce seller of apparel and footwear with over $70 billion in total sales as of 2018, it is evident that clothing is a leading category worth administrating a test.
The visual appeal of apparel brand store pages helps shoppers envision outfits and styles. Instead of vertically scrolling through a list of products on a search results page, shoppers are able to compare products side-by-side and generate ideas through captivating lifestyle imagery and video content.
"Top Brands"
We also noticed that select high-performing brands received a "Top Brand" sticker below their products.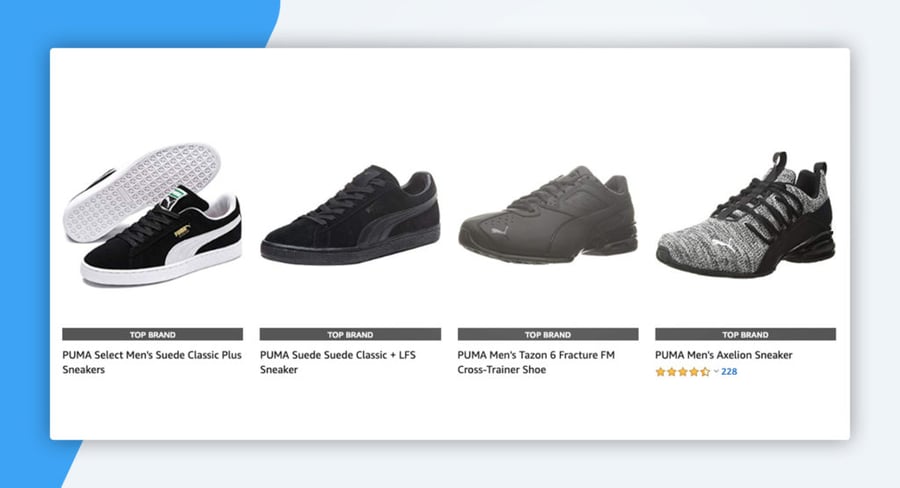 This advantageous mark could aid shoppers in making quicker decisions and help overcome Gen Z's 8-second filter.
Bidding on Brand Stores?
We speculate that if sponsored brands and sponsored products become no more, brands may need to outbid one another to conquest exact branded terms.
If one brand outbids another, will their brand store appear directly in search results instead?
It is a scary thought, but staying alert and being adaptable is what puts us at the forefront of ad innovation to help brands oversee future obstacles.
Ergo, this could also mean that brands will automatically own their brand name on Amazon, similar to owning a website domain.
This would mean that brands can more effectively allocate their budget spending to long-tail keywords without the worry of their exact name being conquested by competitors.
A 24-hour Anomaly
As of the morning of August 8th, brand stores appearing as search results pages is no more.
We can only hypothesize that this short-lived test by Amazon was intended to assess the influence brand store pages have on shopper experience.
In the meantime, check back with us for the latest Amazon news and updates on this exciting event.